Complex Systems Design & Management
Proceedings of the Eighth International Conference on Complex Systems Design & Management,
CSD&M Paris 2017
Editors: Chapoutot, A., Krob, D., Roussel, A., Stephan, F.
This volume contains the proceedings of the Eighth International Conference on "Complex Systems Design & Management" (CSD&M Paris 2017; see the conference website: http://www.2017.csdm.fr/ for more details).
The CSD&M Paris 2017 conference was jointly organized on December 12- 13, 2017 at the Chesnaie du Roy at Vincennes (France) by the two following founding partners:
The non-profit organization C.E.S.A.M.E.S. (Center of Excellence on Systems Architecture, Management, Economy and Strategy) who manages CESAM Community,
The Ecole Polytechnique – ENSTA ParisTech – Télécom ParisTech – Dassault Aviation – Naval Group – DGA – Thales "Engineering of Complex Systems" chair.
The conference benefited of the permanent support of many academic organizations such as Ecole Polytechnique, CentraleSupélec, ENSTA ParisTech and Télécom ParisTech which were deeply involved in its organization. We especially would like to thank the conference partners: Apsys Airbus, Airbus, Alstom Transport, Naval Group, Direction Générale de l'Armement (DGA), Institut de Recherche Technologique SystemX, MEGA International, PPI and Thales which were the main industrial and institutional sponsors of the conference. We are also grateful to the Association Française d'Ingénierie Système (AFIS) and to the International Council on Systems Engineering (INCOSE) which strongly supported our communication effort.
All these institutions helped us a lot through their constant participation to the Organizing Committee during the one-year preparation of CSD&M Paris 2017. Many thanks therefore to all of them.
Risk Management Strategy for Uncertain Systems: Decommissioning of Fukushima Daiichi Nuclear Power Station
Akira Yamaguchi
Safe Automated Driving on Highways – Beyond Today's Connected Autonomous Vehicles
Gérard Le Lann
An Applied Knowledge Framework to Study Complex Systems
Juste Raimbault
A Systems Engineering Approach to Ship Design
Alan Guegan, Benoît Rafine, Laurent Descombes, Hanane Fadiaw, Pierre Marty, Philippe Corrignan
Managing an Industrial Software Rearchitecting Project With Source Code Labelling
Brice Govin, Nicolas Anquetil, Anne Etien, Stéphane Ducasse, Arnaud Monegier du Sorbier
MBSE Driven IoT for Smarter Cities
Matthew Hause, James Hummell, Fabrice Grelier
Definition and Verification of Functional Safety Concepts for the Definition of Safe Logical Architectures
Pierre Mauborgne, Eric Bonjour, Christophe Perrard, Samuel Deniaud, Eric Levrat, Jean-Pierre Micaëlli, Dominique Loise
Offer Elaboration and Selection Under Uncertainty Using a MultiCriteria Approach in a Bidding Process
Abdourahim Sylla, Thierry Coudert, Elise Vareilles, Laurent Geneste, Michel Aldanondo
Hidden Structures: Using Graph Theory to Explore Complex System of Systems Architectures
Matthew Potts, Pia Sartor, Angus Johnson, Seth Bullock
Systems Engineering Approach for EPR NM Nuclear Power Plant Basic Design Project
Christian Blanchet, Gabriel Oblin, Karim Aabadi, Martine Klein-Jaby, Olivier Dessoude, Bruno Pentori de Peretti, Nicolas Verdière, Alexandra Krings, Simone Bergamo, Robin Delserieys
Industrial Big Data Practice for Power Plant Energy Efficiency Optimization
Hui Shen, Fang Hou
OntoSoS.QM.Gov: A Quality Governance Framework for Systems of Systems
Eman Qaddoumi, Mohammed Odeh, Zaheer Khan, Mario Kossmann, Imad Traish, AbdelGhani Tbakhi
Direct Democracy as the Keystone of Smart City Governance as a Complex System
Claude Rochet, Amine Belemlih
Formation in Networks of Mobile Robots
Alberto Lopez-Parra, Adrian Arellano-Delgado, Rosa Martha Lopez-Gutierrez and Cesar Cruz-Hernandez
MBSE Approach for Vehicle Powertrain System Design
Chenhao Yang, Pascal Menegazzi, Jean-Denis Piques, Olivier Coppin, Pascal Chesse, David Chalet
MBSE is the New SE: Summarizing the Best Practices of MBSE Deployment
Aiste Aleksandraviciene, Dr. Aurelijus Morkevicius
Influence of Topology on Asymmetric Systems' Stability
Anne Colin, Afreen Siddiqi, Olivier de Weck, Jean-Jacques Slotine
Strategic Real Option and Flexibility Analysis for Nuclear Power Plants Considering Uncertainty in Electricity Demand and Public Acceptance
Michel-Alexandre Cardin, Sizhe Zhang, William J.Nutrall
Automated Driving System Development: Defining the Sensor Selection Problem Space and Evaluating the Decision-Making Processes for Trade Alternatives
Masaatsu Kusunoki, Abdelkrim Doufene, Bryan Moser, Hidekazu Nishimura
Innovate by Designing for Value – Towards a Design-to-Value Methodology in Early Design Stages
Sonia Ben Hamida, Marija Jankovic, Alain Huet, Jean-Claude Bocquet
Vehicule to Grid, an Iconic Horizon of Challenges for OEM
Yann Chazal, Alain Dauron, Anne Sigogne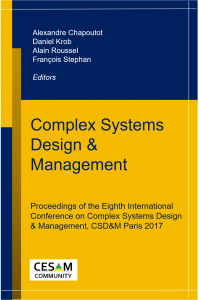 Download the PDF version
COMPLEX SYSTEMS DESIGN & MANAGEMENT © 2017