3rd Asia-Pacific CSD&M
Discover, learn and share about complex systems engineering
Designing complex industrial systems or public service infrastructures systems is a fundamental strategic challenge for all academias, industries and governments. A relatively new discipline, centered on systems architecture & engineering has emerged in the academic environment. This discipline intends to develop theory, methods and tools that will allow engineers to manage the increasing complexity of the technical systems they must design and implement.
Mastering complex engineered systems requires a global integrated understanding both of industrial practices and of sophisticated theoretical tools. Thus, the creation of a widely open meeting forum dedicated to all academic researchers and industrial or governmental actors who are interested in complex industrial systems engineering, and not limited to the existing specialists of the subject, was crucial. It is actually a sine qua non condition in order to nurture and develop in Europe the complex industrial systems science on the move. That is why CSD&M was first created in 2010 in France. The purpose of the Complex Systems Design & Management (CSD&M) conference is to be such a forum, and to become, an academic-industrial conference of reference in the scientific field of complex industrial systems architecture & engineering.
As CSD&M has been a great success in France since 2010, its Organizers have decided to create another event in the Asia-Pacific zone to enable Asian-Pacific participants to join in the debates in an easier way.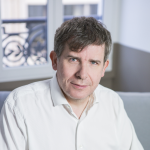 Professor Daniel Krob
"Dear Colleagues, Dear Guests,
The second edition of the international conference "Complex Systems Design & Management Asia" (CSD&M Asia) took place with great success in February 2016 at the Singapore University of Technology and Design (SUTD). This event was created by the French Center of Excellence on Systems Architecture, Management, Economy & Strategy (CESAMES) which already organized the now well established CSD&M conference in Europe for more than 8 years. The core principles that lead to the success of these conferences are also put at the heart of CSD&M Asia, seeking a balance between academia, government and industry partners. Indeed, we believe that mastering complexity can only be achieved with a strong and true cooperation between all key stakeholders. We are therefore happy to renew this collaboration with Singapore, a leading country in the world of complex systems architecture & engineering. Thanks in particular to Professor Pao Chuen LUI and all our collaborating partners. We look very much forward to the participation of the Asia-Pacific systems community to this upcoming third edition of CSD&M Asia."
General Co-Chair, Institute Professor (Ecole Polytechnique - FR), President of CESAMES
PRESENTATIONS
 – Opening of the Conference 
Welcoming by the organizers of CSD&M Asia 2018
Welcoming by the Organizing and Program Committee Chairs
– VIP Talks 
Liew Mun Leong, Chairman, Changi Airport Group, Singapore
"Systems Thinking in Public Transportation", Ngien Hoon Ping, Chief Executive, Land Transport Authority, Singapore
Ravinder Singh, President, Electronics, ST Engineering, Singapore
Foo Alvin, Head of Engineering, PSA, Singapore
 –  Contributed Talks 
– VIP Talks 
"System Engineering of Mega Projects in Singapore", Lui Pao Chuen, National Research Foundation, Singapore
"Applications of contiguous area cartograms", Gastner Michael, Yale-NUS College, US/Singapore
Tan Peng Yam, DSTA, Singapore
"Beyond the Shinkansen System – A Challenge of Japan to Realize Innovative Transportation Infrastructure", Ohkami Yoshiaki, Keio University, Japan
"Singapore's Challenges", Lui Pao Chuen, National Research Foundation, Singapore

"Boosting Digital Transformation"

, Morvan Michel, IRT SystemX, France
 –  Contributed Talks 
"Journey Estimation with Smartcard Data for Land Use Planning", Alvin Chua and Songyu Wang, Urban Redevelopment Authority, Singapore

"Detection of Teamwork Behavior as Meaningful Exploration of Tradespace during Project Design"

, Puay Siang Tan and Bryan Moser, MIT, US
"Multi-class Fleet Sizing and Mobility-on-Demand Service", Malika Meghjani, SMART, Scott Drew Pendleton, NUS, Katarzyna Anna Marczuk, NUS, You Hong Eng, SMART, Xiaotong Shen, SMART, Marcelo Ang, NUS and Daniela Rus, MIT
"Leveraging Data Analytics in Systems Engineering – Towards A Quantum Leap in Railway Reliability", Thaddeus Tsang, Joyce Hong, Mun Yih Wong and Kum Fatt Ho, LTA, Singapore
"SMACOF Hierarchical Clustering to Manage Complex Design Problems with the Design Structure Matrix", Li Qiao and Mahmoud Efatmaneshnik, University of New South Wales, Canberra, Australia
"A Systematic Systems Engineering Approach to Evaluate Complex Inter-Dependencies of Rapid Transit System", Ng Zhi Da, DSTA, Singapore
COMMITTEES
The CSD&M Asia Conference is co-chaired by two keynote Chairmen and is also based on the involvment of many Committee Members that you can discover more precisely below.
The Organizing Committee is in charge of defining the agenda/program of the conference, identifying Keynote Speakers and has to ensure the functioning of the event (sponsoring, communication…)
The Program Committee consists of about 21 members of high international visibility. Their expertise spectrum covers all the conference topics. This committee is in charge of assessing submitted papers and of selecting the ones that will be presented during the contributed talks session or during the poster session.
 General Co-Chairs 
Prof. Daniel Krob, CESAMES, France
Lui Pao Chuen, National Research Foundation, Singapore
 Co-Chairs: 

 Members: 
Saik Hay Fong, Chief Technology Officer, ST Engineering
Peter Jackson, Professor and Head of Pillar, SUTD
Hervé Jarry, Chief Technical Officer, VP Technical, ‎Thales Solutions Asia
Serge Landry, Chief Technology Officer, Anacle and Director, INCOSE Asia-Oceania Sector
François Xavier Lannuzel, Chief Representative Singapore, ‎IRT SystemX
Yang How Tan, President, DSTA
 Chair: 
Peter Jackson, ‎Professor and Head of Pillar, SUTD
 Members: 
Steffen Blume, Doctoral researcher with the Future Resilient Systems programme, SEC

Petter Braathen

, Managing Partner, Phoenix Consulting AS
Aakil Mohammad Caunhye, Research Fellow – Department of Industrial Systems Engineering and Management, NUS
Wyean Chan, PhD graduate in computer science, Université de Montréal
Eng Seng Aaron Chia, Associate Professor in the Industrial and Systems Engineering Department, NUS
Stefano Galelli, Assistant professor of Engineering Systems and Design, SUTD
Daniel Hastings, Director, SMART
Paulien Herder, Full professor in Engineering Systems Design in Energy and Department Head of Engineering Systems and Services, TU Delft
Elizaveta Kuznetsova, Senior Research Fellow, NUS
Serge Landry, Chief Technology Officer, Anacle and Director, INCOSE Asia-Oceania Sector
Karthik Natarajan, Associate Professor, SUTD
William Nuttall, Professor of energy, The Open University
Ramakrishnan Raman, Assistant director, responsible for events, INCOSE Asia-Oceania
Eng Yau Pee, Deputy Director, DSTA, Singapore
Yip Yew Seng, President of the Singapore chapter, INCOSE
Afreen Siddiqi, Research Scientist in the Engineering Systems Division, MIT
Seiko Shirasaka, Associate Professor, Keio University
Kristin L. Wood, Professor, SUTD
Yixin Jiang, Research associate in the department of Industrial and Systems Engineering, NUS
Sixiang Zhao, PhD Candidate, NUS